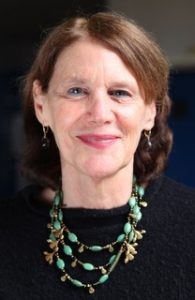 (Masters in Theatre Arts) graduated from Dr. Feldenkrais' last U.S. training in Amherst in 1983.  For the past 35 years she has maintained an active private practice working with children and adults with neurological difficulties as well as a wide range of people with various issues.  Arlyn has also published a series of DVDs on the subject of Feldenkrais and Voice.  For the project she co-taught with Linklater teacher Corinna May.
She has taught numerous public workshops as well as special workshops for Health Professionals.  She has also taught in schools, hospitals and clinics.
She became a Trainer in 1994.  Since that time she has taught in over 100 trainings worldwide (North and South America, Australia, Europe).
From 1999-2007 she directed 5 trainings of her own in Amsterdam, Toronto(Canada), and Berkeley, California. She has taught numerous Advanced Trainings for Practitioners worldwide as well.
Arlyn taught in Milano 1 as an Assistant Trainer and taught several times in the Rome trainings as a Trainer.
She lives and works in San Francisco, California.
This post is also available in:

English (Inglese)